The Darling Studio Signature Project
We are honored to share with you one of our newest Darling Legacy projects: The Darling Studio Signature Project. For several years now, I have had the opportunity to discover, explore, experience, care for, and love a place where Darling spent time creating. The Art Studio is next to the main home. His daughter Mary and husband Richard Koss, along with their son (and Darling's only grandson), Christopher "Kip," lived there for many years. In fact, this is the home where Kip grew up and would walk up the path to his grandfather's house where he would spend hours with "Bah Bah."
Today we have an opportunity to share with the world a virtual experience of this extraordinary place through film, archival material, and images. It will be a step-back in time in showcasing an amazing world of Darling while at the same time experiencing the magic of the land.
We are partnering with RDG Planning & Design in Des Moines, Iowa, and our partners at Drake University to realize this digital preservation project. Help us to dream big and support this project by underwriting a part of the Darling Legacy. Please contact me for more information. Thanks and watch us move forward on this page! – sam@jayndarlingcenter.org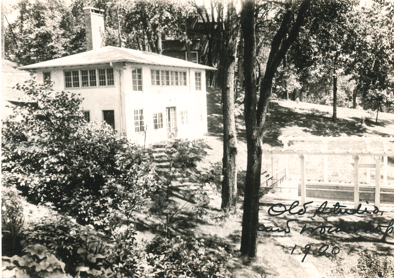 Here is something really special! Click on the link to learn more about Darling's home and studio, which appeared in Better Homes and Gardens in June 1929.