**Funding Alert
Jay N. Darling had a vision for America's future relationship with our natural resources; the existence of the Cooperative Research Units are proof of that vision.
Darling pledged $9,000 of his personal funds to establish the first Cooperative Wildlife Research Unit in 1932 at Iowa State College. This single unit later expanded into a national program in 1935 when Darling lobbied the United States Congress for the expansion of the research units. Because of these efforts, wildlife and fishery Coop Units are located on 40 universities in 38 states with one of the mission goals being the development of the future workforce through graduate education/mentoring.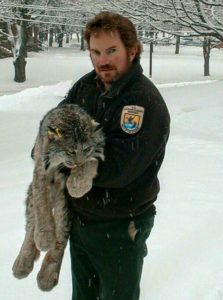 Current Program Director, John Organ
As university and federal workers combine their efforts to research and educate based on the findings of their research, the Cooperative Research Units are absolutely essential in paving the way for continued wise management practices in the stewardship of our precious natural resources both now and in the future.
To learn more about Darling's milestone Cooperative Research Units Program and its three-fold mission of education, research, and technical assistance for managing our natural resources, read this article by their current director, John Organ, and make sure to visit their website.
**The USGS Cooperative Fish and Wildlife Research Unit (CRU) Program is now at a critical point due to a significant funding shortfall. Learn more about the impact of the elimination of the CRU Program.